In this passage, we see three attributes associated with becoming Christ's followers. As Christ's followers we are expected to proclaim the good news of the Kingdom of God and God's love to the world. When we decide to follow him, we accept this responsibility as well. The three moot points to consider are:

1. There are no earthly comforts associated with Christian life. The son of man has no place to lay his head. If our aspiration is to follow Christ and engage in his ministry, we must accept the fact that riches and comforts are not a part of the journey.

2. There is no other calling greater than that of proclaiming the kingdom of God. Things we consider important will have to be put aside to give all due importance and focus to this calling. Let the dead bury their own dead. In a sermon i heard long ago the achen explained that the Hebrew term for people engaged in burial duties is loosely translated as "dead". He said that that's what Jesus meant by saying this; let the people engaged for burial duties carry out their task, but you go ahead and proclaim the good news of the kingdom of God.

3. There is no excuse for looking back. Once we accept the mantle of God's discipleship and ministry, we must not look back with longing at the family/the station in life that we have left behind.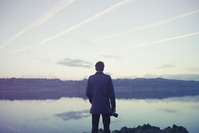 Facebook abounds in controversial posts and judgemental comments. It is almost funny to see how Christians jump to judge and criticise people who are perceived to be sinners, in the comments section of many such posts. Except that it is not really funny. It is dangerous, this business of judging others for their perceived sins, when we commit the same sins ourselves.

Verses 7 and 8 highlight the difference between those who will perish and those who will receive eternal life, on the day of God's righteous judgement. Verse 8 says everyone who is self-seeking, rejects the truth and does evil will be subject to God's anger and wrath.

We know the truth. We know that Christ is the way, the truth and the life. We know his commands to us. We profess our faith in him when we recite the Nicene creed every Sunday. Are we guilty of mere lip service, of rejecting the truth, i.e rejecting Christ, and being self-seeking?
Prayer
Lord Jesus, the more I study your word, the more I realize just how difficult the path to the Kingdom of God is, and how narrow the gate to it. Help me to proclaim it to others and not focus on my own selfish interests instead, amen.