Christian Faith and Living for Christ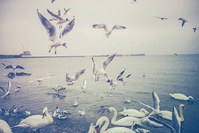 This passage highlights the inefficacy of following the law to make ourselves clean of our sins. It is only when the law is imprinted on our hearts that we can lead victorious lives for Christ, for God.
Of special significance are the following verses:
Verse 23: "let us hold unswervingly to the hope we profess, for he who promised is faithful". There should be no room for any doubt about the hope for eternity with God, in our minds. I read Christian literature at times that indicates it is human to have faith mixed with fear and doubt, but really, it is not something that can be condoned. We are reminded in this verse to hold on to our hope without the slightest bit of doubt or turning from the direction we are headed on.
Verse 26:" If we deliberately keep on sinning after we have received the knowledge of the truth, no sacrifice for sins is left" This verse should really shake us to the core, especially if we believe that faith purchases us the license to do as we please. We cannot work our way into heaven, no, but this verse is a strong reminder for me, for each one of us, that we must refrain from sinning after we have received the faith.

Refrain from sinning deliberately, and repent if we commit a sin unknowingly. I'd like to take your attention to Matthew 5:21-23. Words spoken in anger, hatred against each other are all as vicious as murder itself. Looking at a woman (or man) lustfully is equal to committing adultery. Jesus redefined sin to include evil intentions and desires, not just explicit evil actions; the bar is now really high and we MUST make every effort to refrain from sinning and repent when we do.
There is no other way to eternal life with God, because let us remember always that Jesus is the way.

Prayer
Lord Jesus, help me to love you deeply and genuinely, and to live for you, amen.
This passage is a reminder to:
1. Humble ourselves before the Lord
2. Submit our ways to the Lord
3. Resist the devil and the desires of the world that he plants in us
4. Assume friendship with God and enmity with the world
5. Ask God for what we want, and understand that if we do not receive what we ask for, it is because we ask with the wrong intentions and for our own sake.
6. Not slander against our brothers and sisters

On the face of it, every one of these points seem simple enough. Are they easily achievable? For me personally, no. I have so many desires, many albeit fleeting, that cannot be deemed as bringing glory to God. They are for my own sake. Speaking about or against a brother or sister is almost second nature! Humbling myself before God... Hmm, there are many miles to tread down that path before I can say truthfully that I have perfected it.

Then what is it that I have achieved as a believer? Where is the life altering transformation within me? Well, a few years ago I wouldn't even have recognized or acknowledged any of these ills in myself. So I guess that is a start. God is always eager, willing and waiting patiently to listen to my requests, our requests, to fill us with good things; good fruits such as patience, kindness, love, gentleness and self control. All I need to do, all we need to do, is to ask.

Our prayers almost always begin and end with material and physical requests. We think we are humble before the Lord, but many a times we think we are much better spiritually than others. We gather in prayer fellowships to pray, but we pray for our personal material upliftment. Where is the passion to do great things for God? Where is the desire for friendship with him? Do we even know what friendship with him may seem like?